24 students away from home… and loads of pictures to prove it!
From the 26th of February to the 4th of March, our class, 7B, spent a week in Ireland, the »Emerald Isle«. We went there by plane with our teachers, Ms. Leutmezer and Mr. Dammerer. Two months before we left, we started doing presentations about typical Irish food, music, sports in Ireland, sights, places for shopping, geographic facts and architecture. So we were well-prepared for the trip and looked forward to it. Mostly we were interested in the Greyhound Race and the cliffwalk next to the sea in Howth.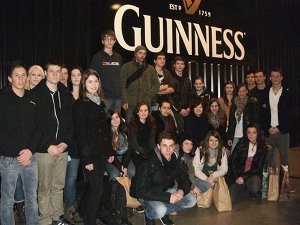 Once in Ireland, we stayed with host families in Lucan, which is near Dublin. We spent most of the time in the capital city which has about 500,000 inhabitants. The landscape outside Dublin is very lovely and green and full of beautiful lakes. As we expected, we saw a lot of sheep on our bus tour to Glendalough and Kilkenny. In Dublin, we visited the Guinness Store House, the National Art Gallery, the Museum of Archeology, (most of the shops in) the downtown area, Trinity College with its famous Book of Kells, the Famine Museum on a ship called Jeanie Johnston, and Croke Park Stadium, where the most popular Irish sports (hurling and Gaelic football) are played. One highlight of the week was our meeting with high school students and teachers at Lucan Community College which had been visited by the Irish Prime Minister Enda Kenny a few days earlier.
The weather was surprisingly good. It rained for most of the day on Monday, but it was pleasantly warm and dry for the rest of the week.
Our hosts were all very nice and they really cared about us. We also liked them. We had a guide named Liz and she introduced us to Dublin. The people we met were very friendly and helpful and didn't mind if we asked them questions. There was a big variety of food and it was almost like being at home, except for the traditional Irish dishes. The food and drink were more expensive than in Austria, however, even in the local fast food restaurants. We were also surprised by the fact that everybody had a new and expensive car, even though the economy has been bad for some years and the number of people who are unemployed is extremely high.
In conclusion, the trip was very interesting and educational because we gained a lot of different perspectives on the culture and how people live in Ireland. The most important thing we learned on the trip was self-organisation, though, because we had to get to our meeting points on time. Our speaking and pronunciation skills also improved considerably. We would like to sincerely thank our teachers, Ms. Leutmezer and Mr. Dammerer, for the wonderful trip and the excellent organisation. We were very grateful to have their skilled guidance during this week.